The Energy Challenge is an opportunity for your school to show the world what you are doing to help promote energy awareness and/or conservation.
Goals of the Challenge:
Increase energy awareness and conservation by students, staff, and the community
Heighten awareness of K-12 school energy activities and provide collaboration opportunities
Judging Criteria:
Submissions will be judged by the KidWind team based on:
Quality of published activity (Tells a story of what/how was accomplished; Pictures/video help bring the activity to life; Helpful to those who might be interested in implementing a similar initiative; Illustrates results)
Number of students and/or community members involved
Success of program
Rules:
Submissions must be made by teachers and students in grades K-12
Activities must be published in the Eco-Campus Cornerstone under the Energy Category.
When starting your activity on the Green Ribbon Schools website, in the KEYWORDS blank you must put the following words: Earth Month, Energy Challenge (If you've already published an activity and need to add these keywords please see the FAQ page)
Published activities must include text AND media (photo, video and/or audio) or it will NOT be considered (If you've already published an activity and need to add these keywords please see the FAQ page)
Activities must be published by

May 15, 2012.
Prizes: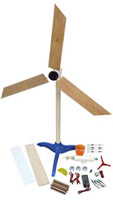 Two winners will be chosen to receive the Basic Turbine PLUS Classroom Pack from KidWind, valued at $244, and a guaranteed workshop slot. Additionally, after publishing an activity on the GRS website to show how the kits were used each winner will receive a $50 gift card for the KidWind store.
The kit includes three complete Basic Turbine PLUS kits and comes with the additional material needed for a classroom of 24 students. With extra wind turbine blade materials, eight crimping hubs, and a total of six nacelles, the Basic Turbine PLUS Classroom Pack is enough material for a classroom to study, learn, and experiment with wind energy concepts. The inquiry based, hands-on learning that is accomplished with our turbine kits allows students to have concept discovery through intuitive problem solving.
Resources:
http://learn.kidwind.org/teach
http://www.teachersdomain.org/browse/?fq_hierarchy=k12.sci.phys.energy.sources
http://free.ed.gov/resource.cfm?resource_id=1969
http://www.neok12.com/Energy-Sources.htm