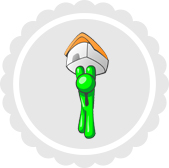 Community: Eco Campus
Welcome to the Eco Campus Community. Be sure to click Follow in the upper right hand corner to join this Community, so that you can connect, post and share.

Installing a Campus Rain Garden
by BrykerWoodsElementary
Our campus Rain Garden was developed by local Civil Engineering Students from the University of Texas who partners with the City of Austin. Funds to install the garden were supported by the City of Austin Watershed Department and UT. Installation was supported by parents, students, teachers, and UT faculty and students. The time it took to install was completed on a Saturday. See attached file for in-depth audit, site visit, design, and implementation. See YouTube video of both Doss Elementary and Bryker Woods Elementary (about halfway through the video). https://www.youtube.com/watch?v=6tOWZ-7EkgQ
Download .pdf file now
0

-
0

About
A place to discuss the GRS Cornerstone: Eco Campus. Share projects ideas, lesson plans, or ask questions that pertain to this specific cornerstone.