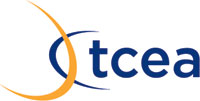 Green Ribbon Schools is an endorsed program of the TCEA (Texas Computer Education Association).
Promotions and Contests (for TCEA Members Only):
SXSW Interactive Badge/Pass Giveaway
The Green Ribbon Schools℠ (GRS) program wants to reward TCEA members who publish activities on the GRS website before January 31. Three SXSW Interactive Passes (valued at $650) will be awarded to TCEA members who publish an activity by following these simple steps:
Register at www.greenribbonschools.org by using the TEACHER CODE: 88224466-T
Once you are automatically logged in, click on the red START NEW ACTIVITY button
Include "TCEA" in the name of the activity and/or in the "Keywords" blank on the Start New Activity Page (*very important*)
Publish a results page for this activity (See the HOW IT WORKS Tutorial Video)
One winner will be randomly selected each month. Publish each month for more chances to win. It takes about 10 minutes for each activity. If you have any questions, please contact us.
TCEA and Green Ribbon Schools - General Information:
Are you a TCEA member?
TCEA will begin showcasing member projects from Green Ribbon Schools and would like to reward you for those accomplishments. As you start your projects, be sure to include "TCEA" when naming the activity or in the "keywords" blank when starting the activity (this occurs on the START NEW ACTIVITY page, once you LOGIN and click the red "START NEW ACTIVITY" button).
Not a member of TCEA?
TCEA, the largest state organization devoted to the use of technology integration in education, provides teachers and administrators avenues in which they can stay on top of the latest trends in teaching, learning and technology. TCEA provides professional development and resources for teachers and administrators to support 21st century learners in a digitally savvy world. Founded in 1980, the organization has been very active throughout its history supporting instructional technology. Our primary focus is on integrating technology into the PreK-12 environment and providing our members with state-of-the-art information through conferences, workshops, newsletters, the Internet, and collaborations with higher education and business.
Learn more at www.tcea.org.